Detailed description
Would you like to have the answer immediately? The best cheap web host for most people is undoubtedly Hostinger. Hostinger is incredibly fast, offers excellent uptime and has a super helpful support team.
There are a large number of low-cost web hosting providers.
But many cheap web hosting providers offer lousy service. Unreachable customer service, slow loading times, a lot of downtime… Even if your site has no commercial bias, this type of web hosting is not worth it.
I did some research to find a cheap web host that is still of high quality.
Can you find a cheaper web host than the options below? Of course you can. But usually those parties will be so bad that at some point you'll want to throw your laptop against the wall.
The web hosting services in this guide bridge the gap between affordability and quality.
In addition, I'll tell you what you need to do to get the best rate, tell you what to look for in a cheap web host, and address the most frequently asked questions at the end of this guide.
Looking for cheap web hosting 2021? Read our mega GUIDE!
The search for the cheapest accommodation can be complicated. Nowadays there are hundreds of providers and therefore sometimes you can't see the forest for the trees. To make it easy for you, we have compiled a list of the providers with the cheapest web hosting.
To organise your cheap web hosting you don't have to search for a long time, look in our top 10 and you will immediately end up with the providers with the cheapest web hosting.
If you start comparing cheap web hosts you have to take into account the choice of the package. When choosing a cheap hosting, you might choose a less extensive package. So think carefully about what your needs are and what kind of website you want to use, if you already have a site with a lot of visitors then choosing a cheap web hosting is a bad plan.
However, if you are a beginner and just want to get your website live? Then with the cheap hosting comparison you can easily find a package that suits you.
What to look out for in cheap web hosting?
Cheap accommodation is not necessarily worse than expensive accommodation. However, there are some points to pay attention to when making your choice.
What is included in the price?
A cheap basic rate can be an eye-catcher. Websites like ours compare basic prices, which do not include any additional costs. It happens that hosting companies ask for money for things like restoring a backup or redirecting a domain name. Some features are included, others are not. Pay attention to this before judging by price alone.
What is the validity of the price?
A low price can be an offer, we often see that the first 3 or 6 months a lower rate is used. However, this special rate is clearly shown, the fixed rate after this promotional period is sometimes difficult to find. Apart from a special offer, it can also be that companies regularly raise their prices.
Disadvantages of cheap web hosting
(No) good customer service
A common disadvantage of cheap web hosting is the lack of telephone support. A customer service with real employees is expensive. In addition, making phone calls is time consuming and has to be paid for somehow. It is difficult for web hosting providers to have a good customer service 5 days a week for hosting packages for 1 euro per month. An understandable saving is then only support via email and tickets.
Carry servers (complete)
This second disadvantage is a common complaint, but unfortunately it is very difficult to control. Even if you check how many web pages are on the server, this is always a snapshot. A small new hosting company has few customers and therefore fast hosting. However, a few months later, there may be hundreds of additional customers on the same server.
It is not true that cheap is always bad. However, it stands to reason that you cannot always expect the same customer service and courtesy from your web service provider when you pay less than 1 euro per month.
The best cheap web hosting in 2020
Hostinger – 1$ per month (if you pay 4 years in advance)
GreenGeeks – 3$ per month (if you pay 3 years in advance)
SiteGround – 7$ per month (1 year upfront fee)
The above list shows why comparing web hosting services 1 to 1 is so complicated. Each company has a unique way of setting prices.
The chart below creates light in the darkness:
| | | | | | |
| --- | --- | --- | --- | --- | --- |
| Name | 1 month | 1 year | 2 year | 3 year | 4 year |
| Hostinger | $8,99 | $30,31 | $45,11 | $82,11 | $49,46 |
| GreenGeeks | $8,46 | $55,53 | $87,62 | $98,32 | $201,84 |
| SiteGround | $17,99 | $94,97 | $285,07 | $399,96 | $601,84 |
This is what this table teaches you:
First of all, you often get better rates when you pay in advance. Take a look at Hostinger, for example, and you might wonder why there is a monthly payment option.
Paying in advance has some drawbacks:
Make a reasonable investment up front
If you are not happy with your host, you stay with them for years. If you cancel early, you lose your money. Luckily, the web hosts in this guide offer a 30-day money-back guarantee so you can test the service thoroughly.
Most web hosting companies have upfront fees. When Hostinger's generous rate of $1 per month runs out after four years, you will pay $2 per month (which you will have to pay again four years in advance). Still a very modest price, but keep that in mind.
Hostinger

Visite Hostinger
The best cheap web hosting in 2021
Free domain and SSL certificate
Websites load super fast
30 days money back guarantee
Get 90% discount
Hostinger has exploded in the hosting sector in recent years. Largely due to its attractive prices.
Hostinger charges for its cheapest package
12 months: 2$ per month (after renewal, 5$)
24 months: 2$ per month (renewal: 4$)
48 months: 1$ per month (2.5$ per month after renewal)
This includes
1 website
1 email address
10 GB of storage
SSL certificate (https:)
24/7 customer support
1-click WordPress installation and WordPress acceleration
And you pay extra for this
Domain name (? per year)
Daily backups (13$ per year)
Cloudflare – better security (12$ one-off fee)
For a very simple website, this will be a great help. However, it would be wise to consider their premium web hosting. That package includes weekly backups and immediately gives you much better performance.
Here is an overview of Hostinger's cheapest packages.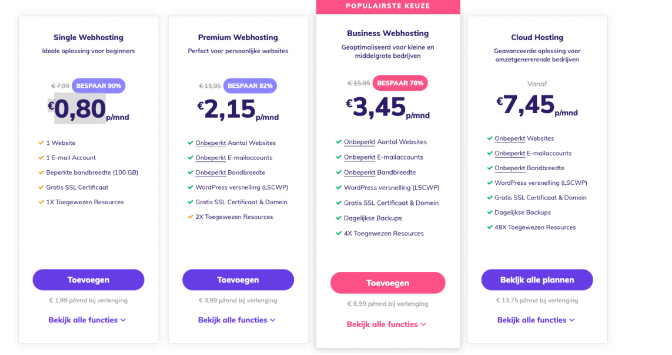 The biggest differences lie in the number of sites supported by each package and the number of resources allocated. For example, Business Webhosting has 4 times more resources than individual Webhosting. What this means in practice is that your site can handle more visitors on Business Webhosting, has faster load times and will be offline less often.
There are also differences in the amount of disk space you are allocated. Single Webhosting has with 10 GB three times less disk space than Business Webhosting. However, most websites will not reach that 10 GB by a long shot.
With business web hosting, daily backups are also included. This is a must for corporate websites.
All three packages have a 99.9% uptime guarantee, 24-hour customer service and come with an easy-to-use website builder.
Things like this ensure that even if Hostinger is cheap, it never feels cheap. In the end, you get excellent service. Regardless of whether it costs an arm and a leg.
Read our full Hostinger review to find out more.
GreenGeeks

Visite GreenGeeks
The world's most sustainable web hosting
Fantastic 24/7 customer support
Easy to use control panel
Daily automatic backups
30 day money back guarantee
GreenGeeks is the world's most sustainable web hosting provider. They invest in wind power three times the amount of energy they use. Considering that the Internet is more polluting than the entire aviation industry, this is incredibly valuable.
Despite this investment in sustainability, GreenGeeks is very attractively priced and offers great value for money. Especially if you pay 2 or 3 years in advance.
GreenGeek's cost for its cheapest package
12 months: 3$ per month (after renewal, 10$ per month)
24 months: 2$ per month (after renewal: 10$ per month)
36 months: 1$ per month (after renewal: 10$ per month)
This includes
This includes:1 website
Unlimited number of email addresses
Unlimited storage space
SSL certificate
24/7 customer support
1-click WordPress installation and WordPress acceleration
And you pay extra for this
The beauty of GreenGeek's cheapest package is that it doesn't feel stripped down in any way. You get a domain name for a year, a CDN and nightly backups. You can attach as many email addresses as you like, and your WordPress site will be kept up to date automatically.
These are GreenGeek's cheapest web hosting packages.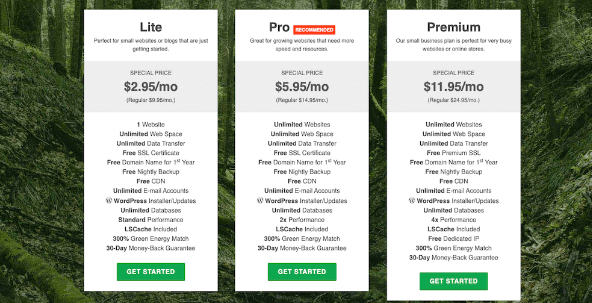 The biggest differences between the basic GreenGeek packages are the number of websites and performance. In the Lite package you can run one site, in the Pro and Premium packages this number is unlimited. The Premium package has 4 times the performance of the Lite package, which means your sites will load faster and you can expect more uptime.
All packages come with 24/7 customer support. In my experience, GreenGeeks has the fastest customer service in the industry – I can't recall ever waiting more than a minute and a half for a response.
Read our full review of GreenGeeks to find out more.
SiteGround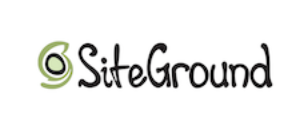 Visit SiteGround
Recommended by WordPress
Fantastic 24/7 customer support
Easy to use backend
Daily automatic backups
Get a 57% discount
SiteGround is on the borderline of what you can call cheap hosting. But they are so good that I don't want to hide it from you.
The interesting thing about SiteGround is that they offer solutions for both small and large sites. Blogs that make millions use SiteGround, but mini sites with a few hundred visitors a month do too.
So if you have a small site with big ambitions, you don't have to switch providers as soon as you enter the premier league of the website world.
SiteGround's cost for its cheapest package
12 months: 7$ per month (after renewal, 14$ per month)
24 months: 10$ per month (12$ per month after renewal)
36 months: 12$ per month (same price after renewal)
This includes
1 website
Unlimited number of email addresses
10 GB storage space
SSL certificate
24/7 customer support
1-click WordPress installation and WordPress acceleration
And you pay extra for this
SiteGround's lowest priced package goes a long way. It can handle 10,000 visitors per month, offers automatic daily backups and is fully optimised for WordPress sites. It also comes with a free website builder.
While I would recommend using Hostinger's cheapest package only for hobbyist sites, SiteGround's cheapest package is already suitable for small and simple business websites.
These are SiteGround's cheapest web hosting packages.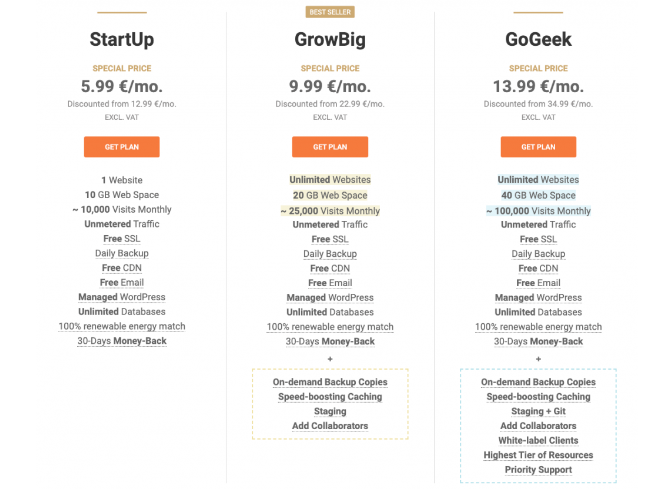 As you can see the GoGeek plan is no longer cheap. With GoGeek you get a serious package that can handle up to 100,000 monthly visitors, uses the best resources and offers SiteGround's best support staff.
Looking at StartUp and GrowBig, the biggest differences are the number of sites per package, the number of visitors you can receive, better caching and on-demand backups.
There are 3 hosting companies in the world that officially recommend WordPress. SiteGround is one of them. This hosting provider is legendary within the WordPress community. They run on the Google Cloud platform, have their services fully optimised for WordPress and offer incredibly good customer service. Even for entry level packages.
By the way, you can install any popular web application on SiteGround, not just WordPress.
Their cheapest packages are slightly more expensive than the other providers in this guide. But in return you get the best service.
Read our full SiteGround review for an in-depth look at SiteGround.
Cheap web hosting explained
Like everything else in life, you get what you pay for. Web hosting is no exception. When a provider offers you a deal that seems too good to be true, it often is.
Consider the following:
Web hosting that costs less than one euro is not for every company
You hang up with their customer service once, and the provider is already in the red.
These companies insist that you switch to their more expensive packages. To get you to switch faster, you will see pop-ups in your control panel urging you to upgrade. This is seen, for example, at Hostinger.
Many cheap web hosting packages are also very sparse. They often lack SSL, daily backups and other extras that make your life more pleasant.
The cheapest web hosts are always the shared ones. Bad cheap hosting providers cram your site on a server with too many other websites. This can lead to security risks. In addition, surges of visitors to other sites on the server can cause your site to slow down or go offline.
Good cheap web hosts make sure that this does not happen.
Questions to ask when comparing web hosts
Here are some questions to ask yourself when you start comparing web hosting:
Does the hosting website look professional, is it clear and easy to navigate?
Are prices clearly indicated?
Is there sufficient information on the website of the hosting company in question?
How is the support organised (are you helped quickly)?
Is there a clear notice period and do they have a "money back guarantee"?
Does the website have clear terms and conditions?
How long does it take to receive a reply if you send an email to the web hosting company?
In the above summary, we have only talked about the professionalism and appearance of the company. We have not talked at all about the specifications you should look for before choosing a web hosting package.
The best cheap web hosting for WordPress
A CMS can be very useful for managing a website. Nowadays there are many open source CMS systems for which you do not have to pay. These are supported by a large community. Answers to problems or questions can always be found on the Internet. The most popular CMS today is WordPress. More and more people and companies create their website on WordPress. WordPress is very easy to use, secure and completely free. If you are not familiar with WordPress, we recommend you take a look at it. You can also compare special WordPress hosting at hostingfanatic.com.
Frequently asked questions
These are the most frequently asked questions about cheap web hosting:
Do web hosting costs increase with the renewal?
Often it is. Many web hosting companies attract new customers with attractive entry fees. After the contract period is over, you have to pay the usual fee. When considering a web hosting provider, always look at the actual fee and consider whether it is a reasonable amount for you.
Do you normally get free email addresses and domain names?
With a web host like GreenGeeks you get a free domain name for one year. But with many other companies this is not the case. Most websites allow you to add email addresses for free. But many cheap hosting packages have a quantity limit.
What about the money-back guarantee?
Many web hosting providers offer a 30-day money back guarantee. Domain registration fees are non-refundable. And if a web hosting company offers you a free domain, the cost will be deducted from the total amount. You can then use this domain with another hosting provider.
Do I need all those advantages offered by cheap accommodation services?
Some web hosting companies are like RyanAir: you get the basic service, but you pay extra for literally everything else. With some web hosting providers, you have to pay extra:
Daily backups
Send an email to
Additional security
SEO Toolkit
CDN – for speed with international sites
Some sites will not need these extras. And some hosting providers offer them for free.
Can cheap accommodation handle a lot of traffic?
As a general rule, cheap web hosting is ideal for small sites with low traffic. Many cheap packages can handle around 10,000 visitors per month. Remember that most websites will never get close to that figure. If you get more traffic, you can always switch to a better package within the same hosting provider.
Which cheap accommodation has the best customer service?
SiteGround wins by a landslide here. Their customer service is fast, friendly and very capable. This also applies to users of their cheaper packages.
Summary: the best cheap web hosting
It doesn't make sense to spend a lot of money on web hosting for your new site. But finding a good cheap web host is difficult because hosting services are hard to compare with each other.
In this sense, the search for web hosting can be compared to getting a telephone or Internet subscription. This can also be complicated.
In any case, I recommend not to look only at costs: the quality of the service should always be the main factor.
If your site goes offline or there are other problems, you expect your host to fix it quickly and properly. You should also make sure that your web hosting package has the features you expect. Otherwise, you will have to buy these features separately, which makes hosting no longer cheap.
When examining the costs, pay close attention to the conditions. To pay 1$ per month at Hostinger, you have to pay 4 years in advance. That can work well if you do not plan to attract many visitors and can afford to pay the full amount at once.
If you prefer not to pay so much upfront, Cloud86 is a much better option. There you pay 2$ (excl. VAT) with your first payment. And you can cancel the service whenever you want.
Again, these are the affordable web hosts we recommend:
Hostinger – 1$ per month (if you pay 4 years in advance)
GreenGeeks – 3$ per month (if you pay 3 years in advance)
SiteGround – 7% per month (1 year upfront fee)