Overview of SiteGround Hosting: pros and cons, user reviews

Overview
High-quality web hosting with extensive plans
High quality web hosting with comprehensive plans SiteGround is one of the most preferred web hosting providers serving the owners of over 2 million domains worldwide. You can host almost all popular CMSs, but they are especially specialized in WordPress, WooCommerce, Magento and Joomla.
Managed WordPress and Woocommerce hosting
SiteGround is one of the most popular and highest rated hosting providers in the WordPress community. They are known for their friendly and knowledgeable 24/7 support and are an official WordPress and WooCommerce recommended hosting provider. With SiteGround you get more value for just a few euros more. They offer the most affordable bundle of Managed WordPress services with unique internal speed and security solutions, great support and plenty of features like WordPress performance optimisation tools, CDN, free SSL, daily backups, email hosting and more.
Super fast servers
SiteGround service is run on Google Cloud, a powerful infrastructure known for its network speed and high performance. In addition, all SiteGround servers are equipped with SSD drives, they run custom in-house developed software to ensure your site is super-fast. SiteGround operates data centres in the London and other locations in the US, Europe, Asia and Australia.
User-friendly platform for an easy start
SiteGround makes it easy to start a website with their WordPress Starter tool that walks you through a selection of free themes and plugins to choose from, so you can have your website up and running in minutes.
Why choose Siteground's hosting
SiteGround is an international hosting provider and has been operating in the hosting market since 2004. The quality of their hosting is high, and the rates are relatively low for what you get. They specialize mainly in shared, dedicated and VPS hosting packages and have a datacenter in London. A big plus is that they offer free SSL certificates through Let's encrypt and also Cloudflare CDN is included for free on the packages.
The reason why SiteGround is an above average hosting provider is not only the power and speed of the servers, but also the attention to customer satisfaction. They have a 24/7 helpdesk that will kindly assist you via chat or email.
Siteground's hosting packages
SiteGround has three hosting packages with different options. The difference is mainly in the size of the server.
The StartUp package, this is fine for a very small website.
The GrowBig package is recommended for a standard website, because here you can also use the SuperCasher, which will make your website a lot faster.
The GoGeek package.
The holy trinity of good web hosting
The most important pillars of good web hosting are customer support, uptime and speed. How does SiteGround score on these areas?
Customer support
I have never had a problem with SiteGround because of a technical error *knock on wood*. I have however had a few times a specific technical issue which could not be solved with a Google search. In these cases it didn't take more than a few minutes for SiteGround's support team to get back to me via live chat (you can also call for free). This is the case 24/7.
In a time where you have to move heaven and earth to reach the customer service of certain companies, this is a relief.
In addition, SiteGround knows WordPress through and through. This is not surprising, as SiteGround is one of the only three hosting services that officially recommends WordPress. So when you have a specific WordPress issue, SiteGround's staff is happy to lend a helping hand.
Of course, there are limits to the help they can offer. If you are dealing with a complicated problem that you caused yourself, they are not going to spend hours to solve it for you.
But if hosting and WordPress are new to you, it's nice to know you're not alone. And when you get stuck, all you need is someone to give you a push in the right direction to get the ball rolling again.
SiteGround scores a 4.8/5 on TrustPilot site after more than 6000 reviews. Their excellent customer service is extensively cited.
Please note: SiteGround only offers customer support in English.
Speed
Nobody likes a slow website. Slow web pages get lower rankings in Google, and visitors will also click away quickly when a site loads slowly.
You can influence the speed of your website through things like image size and the platform you use. But in the end, everything depends on your hosting. Slow hosting = slow website.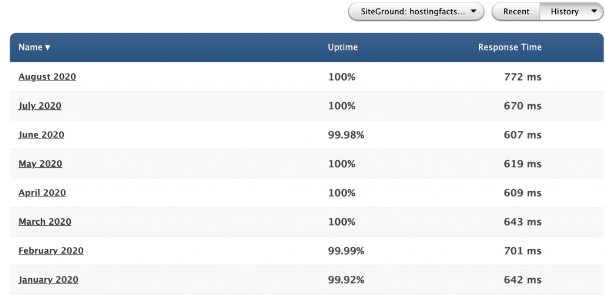 Looking at a SiteGround test website, we see that the speed fluctuates between 609 and 758 milliseconds in 2020. This is phenomenally fast. It's hard to find a hosting service that is consistently faster than this.
Uptime
Your webhosting can be as supportive and fast as you want it to be, but if your website is offline, it won't help you.
Fortunately, SiteGround consistently ranks in the top 5 web hosting services with the highest uptime. With an average uptime of 99.988%, the chance that you'll find your website offline with SiteGround is nil. How does SiteGround achieve this high uptime?
SiteGround's monitoring system checks the server status every half second. Not only does it detect and automatically resolve many existing issues, but it can also anticipate and prevent potential problems. Their team also monitors and fends off emerging threats and software vulnerabilities with a firewall that continues to become more intelligent, and an AI bot that blocks malicious website traffic before it can reach your site.
The result is hosting that is a few thousandths of a percentage point away from always on.
Further considerations
Besides customer service, speed, and uptime, there are a number of other factors that are important when it comes to choosing the best web hosting. I will discuss these below.
Flexibility
You can host practically any website on SiteGround.
Is this your first time hosting a website? No problem at all. You don't need any technical knowledge to get started with SiteGround. Once you have your SiteGround package, you can have, for instance, WordPress installed automatically within a few clicks.
But even if you are an experienced web developer SiteGround is an excellent choice. If you want to configure the server to your own liking, this hosting has suitable packages for that too.
Besides shared hosting (a server you share with other users), there is also cloud hosting.
Their packages cater for a wide variety of traffic. You can always scale up your package according to the growth of your website.
Backend
You don't want to spend time understanding your hosting backend. Fortunately, SiteGround's backend is very user-friendly. This is not the case with every webhosting company.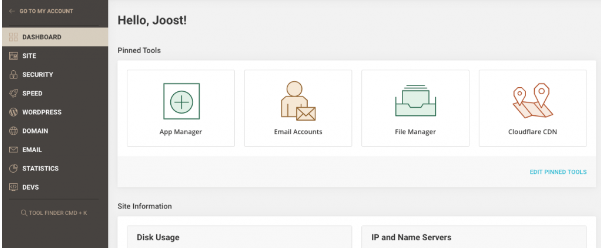 Even if it's your first time using web hosting, you'll get to know the ins and outs of SiteGround in no time.
Free hosting extras
Many web hosting services will charge you extra when you want to use extra services. SiteGround, however, offers a lot of extra features for free.
If you have a site with visitors from all over the world, you can install Cloudflare CDN for free. Cloudflare caches your content over an international network of servers and loads your website from the server that is closest to your visitor. This ensures a website that loads super fast anywhere in the world.
SiteGround also offers a free SSL certificate that you can install with just one click. This is something every website needs. When a site has an SSL certificate, you will see a green padlock in the address bar. This indicates that the site runs through a secure connection. A secure connection ensures that third parties cannot steal sensitive personal information from your visitors.
Furthermore, your SiteGround account offers one free website transfer. If you use the GrowBig or GoGeek package, a SiteGround employee will take care of the move for you.
SiteGround costs
SiteGround is not the cheapest webhosting on the market. This is not surprising considering the quality of their services. As they say… what you pay for is what you get.
Monthly costs
SiteGround has attractive monthly costs at first sight. However, these are entry-level rates.
When you renew your package, your costs will look like this:
Startup. From 6.99$ to 14.99$
GrowBig. From $11.99 to 24.99$
GoGeek. From 15.99$ to 37.99$
Across the board, costs practically triple. That's why it's smart to sign up for the longest possible contract, which is 36 months. That way, you pay the best price for the longest possible time.
Money-back guarantee
As befits a good web hosting service, SiteGround offers a 30-day money-back guarantee for their shared hosting. This gives you more than enough time to find out if SiteGround is indeed the best hosting service for you.
For their cloud hosting, there is a two-week money-back guarantee. A little less, but still enough to find out if you want to continue with SiteGround.

Furthermore, SiteGround guarantees an annual uptime of 99.9%. If they slip below this, you get one month of free hosting.
This explains the excellent uptime figures we discussed earlier.
SiteGround hosting packages
As usual among web hosting services, SiteGround offers a range of different packages. If you are just starting out, or have a website that attracts less than 100,000 visitors per month, shared hosting is what you need.
Once you start exceeding this limit, it's worth looking into cloud hosting.
Shared hosting
Here is an overview of SiteGround's shared hosting packages.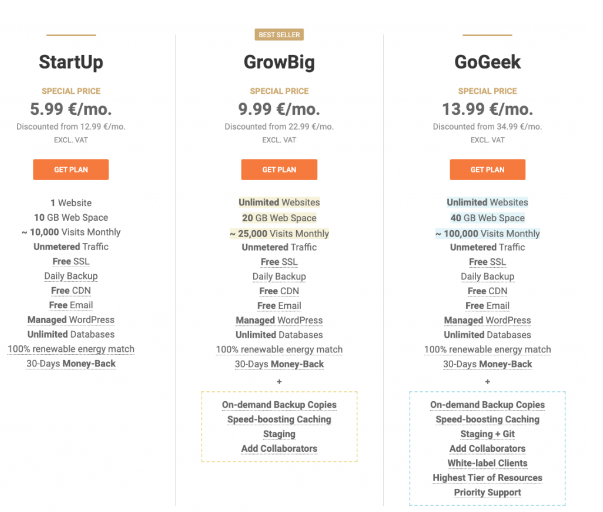 Startup
This package works well if you are not going to run more than one website and this site is under 10,000 visitors per month. Your site can cover up to 10 GB. This is more than enough for the vast majority of websites.
StartUp lacks a number of features GrowBig and GoGeek do offer. Although they do offer daily backups of your site, you cannot make backups on demand.
StartUp also lacks staging. With SiteGround, the staging feature makes a copy of your website – if you are using WordPress – that visitors cannot see. This is useful for testing new designs and functionality.
That said, this package is a great option for beginners.
GrowBig
The GrowBig plan lets you add as many sites as you want to your account. It also allows about 25,000 visitors per month, which is quite a number. You have 20 GB of web space to spend on your site(s).
In addition, you have extensive backup options and the aforementioned staging. This package also has speed-boosting caching, which ensures that your web pages load a lot faster.
If you want to collaborate with others on your site, you can also add them to your SiteGround account.
If you are reading this article, then this package is probably the best option for you.
GoGeek
With GoGeek we enter a more serious web hosting level. With 40 GB webspace and 100,000 visitors you can run a serious site or sites on this package.
This package is also ideal if you develop websites for clients. SiteGround's "white label" functionality allows you to easily add users to your SiteGround account. Subsequently, these users can start working with the Site Tools of their own website.
In addition, with GoGeek you get access to the highest class of SiteGround server resources. In practice, this means that with this package your site(s) will run just that little bit better than on the other packages.
You'll also get access to the best and most experienced customer support staff the company has to offer.
WordPress hosting with SiteGround
Earlier in this piece I mentioned that SiteGround is officially recommended by WordPress. There are hundreds of thousands of hosting services worldwide, and most of them are capable of running WordPress.
So why would WordPress give SiteGround this honour?
One of the reasons is that SiteGround makes managing WordPress sites incredibly easy. The 1-click WordPress installation, WordPress staging, git integration, easy updates and the tools SiteGround has developed specifically to make WordPress sites run better make running WordPress sites an almost worry-free process. SiteGround has done everything possible to make their hosting service work perfectly with WordPress sites.
If you have an existing WordPress site, you can transfer it to SiteGround for free using the SiteGround Migrator Plugin.
Cloud hosting
Cloud hosting is a flexible upgrade from shared hosting. When you have outgrown shared hosting packages, this is the logical next step. With cloud hosting, SiteGround guarantees that your site will have enough server resources allocated to it. Your server's RAM and CPU are not shared with others.
You can upgrade your RAM, CPU and memory at any time. No approval is required and your site will not go offline once you do so.
Conclusion
I highly recommend SiteGround. Since we use them for Start24, this conclusion will probably not surprise you.
SiteGround offers something for almost everyone. They have the best customer service out there, great uptime and speed, and are officially recommended by WordPress. They are easily one of the best hosting providers on the market.
SiteGround is not a British company. But because they have a data centre in the United Kingdom, this does not hinder the speed of your website at all.
Much attention to speed
Siteground pays much attention to the speed of your website. This can be seen from:
Fast NGINX servers in the UK, important if you have visitors from the UK.
All shared website hosting servers have SSD disks, which will make your website considerably faster (many providers have this nowadays, but Siteground already offered it in 2015, which indicates that they are at the forefront of new technologies)
HTTP/2 on all shared and cloud server, which allows the different files of your website to be loaded at the same time instead of one after the other, which again makes for a faster website (again, they have had this since 2015, when it was definitely not standard)
A self-developed SG Optimizer caching plugin to speed up WordPress websites. With its caching capabilities and front-end and image optimisation functions, it optimises the performance of WordPress sites so much that, according to Siteground, you can see speed benefits between 20% and 500%.
Free Cloudflare CDN integration which loads some files from the fast Cloudflare servers and makes your site faster
According to a May 2020 blog, 40% faster processors: "We will update all processors used to host our clients on the Google Cloud infrastructure. The new N2 CPUs perform roughly 40% faster than the ones we used previously."
The latest PHP7 version for even faster websites
Strong focus on security
Siteground also pays a lot of attention to the security of your website:
technology to prevent hacked sites on the same server from infecting your site
automatic WordPress & plugin updates (can be turned off if you don't want to)
active monitoring of and pro-active response to potential security vulnerabilities
free Let's Encrypt Wildcard SSL certificates that you install yourself in just a few clicks: many providers have this too nowadays, but Siteground was one of the first, which shows that they are in the lead.
Free Let's Encrypt SSL certificates
Siteground offers free Let's Encrypt Wildcard SSL certificates that you install yourself in just a few clicks. Many providers have this too nowadays, but Siteground was one of the first, which shows that they are ahead of the game.
Support day and night
No matter what time of day it is, Siteground is available 24/7 for your questions and will answer them quickly. You can do this via chat (immediate), e-mail (usually within 15 minutes) and telephone (I have not yet used it myself).
Good price-quality ratio
In my opinion Siteground offers very good value for money.
You can host your website much cheaper, but then you have many websites on one server. Fine for a private website, but for a business website I would go for something better.
There are also high end hosting providers like WP Engine, but there you pay $35 – $310 per month.
At Siteground you pay $14.99 – $37.99 per month. And you get a big discount on your first invoice, so you only pay $6.99 – $15.99 per month for the first time (all prices are excl. VAT).
Additional GrowBig & GoGeek features
For the 2 more expensive accounts you also get:
multiple domains on the same account
Siteground SuperCacher plugin for a faster website
WordPress & Joomla staging which makes a copy of your site to test new plugins and updates before applying them to your live site.
Siteground review: the disadvantages
I have recently discovered one real disadvantage of Siteground.
The packages state how many GB and visitors you get. This is usually more than sufficient. The more expensive packages also state "Unlimited Websites". However, I have come across another limit there. There is also an inode limit. There is a limit to the number of files you can have on your account. So even though you are well below your GB limit, you might still run into your inode limit. That has happened to me a few times. But then again, I have about 15-20 sites on a GoGeek account.
Another disadvantage could be that the support is only in English. Not a problem for me, but if your English is not that good, you should look for another hosting provider.
Which Siteground package do you need?
Siteground has 3 packages:
The difference is the number of websites, disk space and extra features.
If you have one simple business website, the StartUp package is sufficient.
The GrowBig account makes sense if you want to host multiple websites or if you have a website that needs to stay up and running. You can then use a staging site (copy of your website) to test new plugins or major updates to WordPress, plugins or your theme, for example.
The GoGeek account makes sense if, like me, you want to host 10-20 websites, need an even faster server or want faster support.
Tariffs
| Tariff | StartUp | GrowBig | GoGeek |
| --- | --- | --- | --- |
| Costs | €12.99 | €22.99 | €34.99 |
| Disk space | 10 GB | 20 GB | 40 GB |
| Number of sites | 1 | Unlimited | Unlimited |
| Tariff | Entry | Business | Business Plus | Super Power |
| --- | --- | --- | --- | --- |
| Price per month | €64.00 | €96.00 | €128.00 | €192.00 |
| Traffic | 5 ТB | 5 ТB | 5 ТB | 5 ТB |
| Memory | 6 GB | 8 GB | 10 GB | 12 GB |
| Storage space | 40 GB | 60 GB | 80 GB | 120 GB |
Contacts
Alexandria, Virginia (USA)
SG Hosting Inc.
901 N. Pitt St, Suite 325
Alexandria, 22314 VA
+1 800 828 9231