Kinsta hosting provider review
Many people think Kinsta is a new player in the WordPress hosting market. At the same time, Kinsta has been on many top 10 lists since 2013. Not bad for a WordPress hosting company whose early years were spent in the attic.
Meanwhile, Kinsta's WordPress hosting has gained tremendous popularity, which doesn't seem to change anytime soon. By the way, there's a good reason for that, because as you can see in our Kinsta review, it's exceptionally high quality. InsideWeb highly recommends Kinsta as a WordPress hosting provider.
What is Kinsta, and what does a Managed WordPress hosting package from Kinsta entail? How is it different from any other hosting plan for WordPress? Overall, we were convinced by Kinsta's strong reputation and focus on combining managed WordPress hosting with ease of use.
Kinsta managed WordPress hosting: the power of Google Cloud Platform hosting and the ease of understanding for everyone.
We can give you an example of what we mean: Kinsta doesn't believe in the traditional DirectAdmin environment for managing a hosting account. Instead, they give you their custom solution that is much easier to use and takes you directly to the most important details and statistics.
Google Cloud Hosting and the Road to Kinsta
It didn't start with Kinst. It all started with Google Cloud Hosting. In recent years, Google Cloud has become much more popular. In addition to very competitive prices, you get real value for money. It feels like sites are connected next to Google Robots, which can't hurt SEO.
The downside of Google cloud hosting is that you have to set everything up yourself. You can set up and deploy a WordPress instance, but then you have to dive into the SSH console for your permalink structure, for example. The SSL certificate isn't exactly pluggable either, and you have to rely on tutorials and SSH attachments here as well.
Many users are marketers, after all, not developers, so start looking for other solutions.
Kinsta and Google Cloud Managed WordPress Hosting
Kinsta is a managed layer on Google Cloud Hosting. It goes through a completely different environment so that you won't be using Google Cloud Console anymore. The Kinsta dashboard shows quite a few similarities to Google Cloud but mainly offers tools that the average web hosting user understands (unlike Google Cloud dashboards).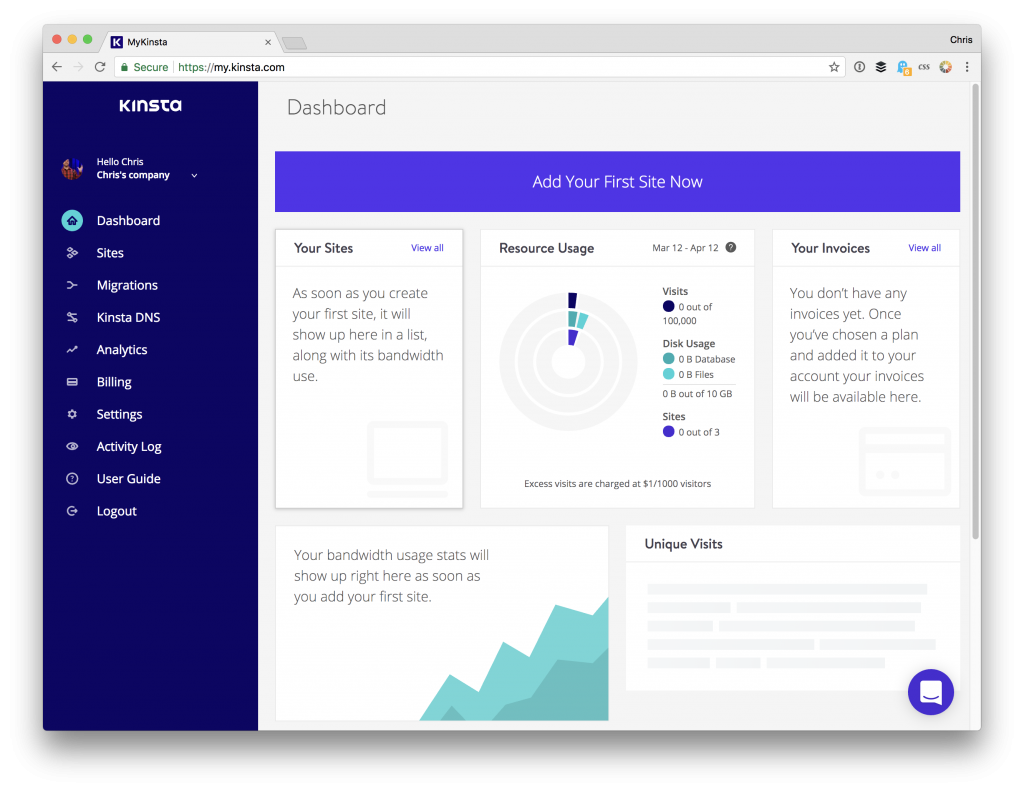 The Kinsta dashboard provides all the information you need about your website. At a glance, you can see the number of visitors, hard disk usage, CDN usage (if activated), and the number of sites you have. Also, some good statistics such as bandwidth usage, etc. Especially interesting when you reach the limits of your package and may need to upgrade to a larger package.
Kinst's packages are as follows:
Starter – $30 p/m – 1 site, 20,000 visitors, 5GB hard drive, free SSL (letsencrypt) and use of CDN.

Pro – $60 pp – 2 sites, 40.000 visitors, 10GB hard drive, free SSL (letsencrypt) and use CDN.
It goes further in increments of $100, $200, $300, $400, $600, and $900 per month, where you get more sites, bandwidth (visitors), hard drive, PHP workers, and at your disposal, respectively. Benefits like SSL and CDN remain the same in all packages, and you also have Kinsta features, which I'll talk about below.
So the pricing model is not as cheap as Siteground, but you get better hosting in return, in my opinion (Google Cloud). It does get expensive quickly with high-traffic sites – you have to consider that.
Kinsta Tools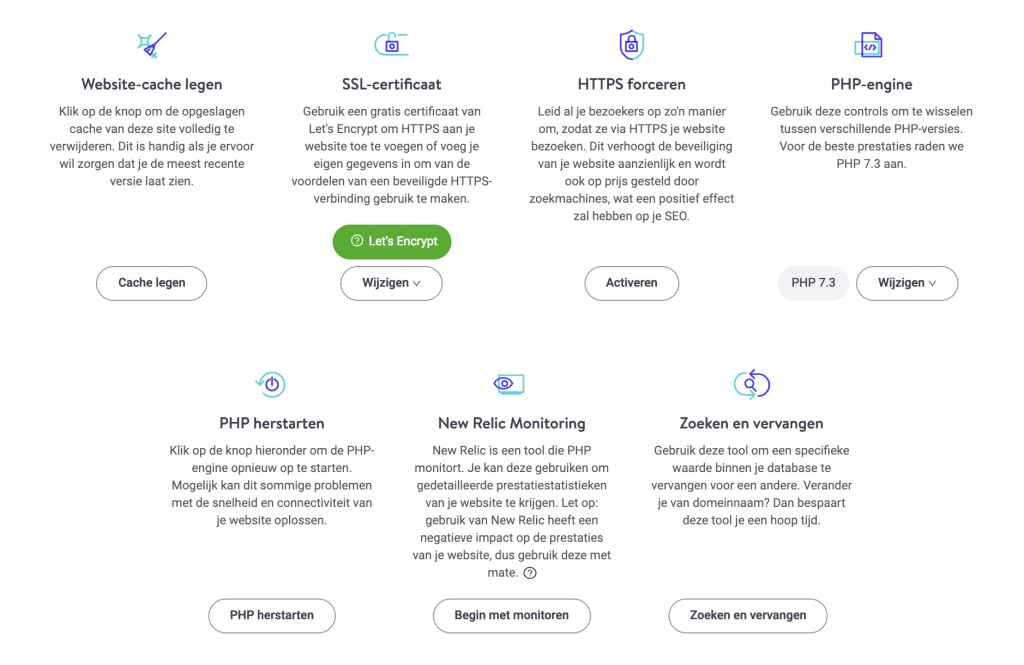 The Kinsta dashboard offers you a set of tools that can be useful when using your website:
Site cache clean – one-click clears all WordPress directories where cache files have accumulated.

SSL certificate – use the free Letsencrypt certificate or use your external certificate.

Force HTTPS – are you not sure if everything on your site is HTTPS? Then use this feature.

PHP engine – this feature is handy for outdated plugins; when you click the button, you can switch to a different PHP version and check the difference. Restoring, of course, takes some time but works great.

Reboot PHP – handy if some processes are stuck in a WordPress installation for some reason.

New relay monitoring is an external tool used to manage the server, easily plugged in through the Kinsta Dashboard.

Find and Replace – No more need for a WordPress plugin when you're making significant changes to your site. With this tool, you can effortlessly search and replace entries in your database.
The additional tools you have are:
easy access via SFTP, SSH, or PHPmyAdmin;

DNS management (Amazon nameservers), even if your domain is external;

daily backups, which are stored for 14 days by default;

management redirection (htaccess) through a more straightforward interface;

an overview of WordPress plugins, version numbers, and which ones need updating;

IP blacklist to block spammers;

Kinsta CDN (beneficial), which allows you to serve images, and this is included in the subscription price, usage

It depends on your subscription;

direct access to server logs.
So Kinsta Managed WordPress hosting is an excellent deal for the demanding WordPress user.
Kinsta and WordPress hosting management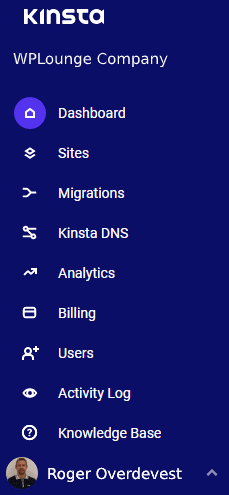 1. Kinsta hosting runs on the Google cloud platform.
2. Fully managed WordPress hosting platform. And I know "managed" is a label that many hosting companies are all too happy to use, but with Kinsta, their focus on management is clear to all. For example, the control panel mentioned above doesn't even contain management options purely.
3. Kinsta-managed WordPress hosting offers several different packages: "Start," "Pro," and "Business." The "Business" package is divided, as is the following (even higher price segment) "Enterprise" package. Depending on your needs, you can choose from them the right option.
Kinsta costs
If you're looking for cheap WordPress hosting, you'll be disappointed with Kinsta. But then quality is (thankfully) not affordable. With great value for money, you can rest assured that Kinsta offers good value for money.
Kinsta currently has 11 different packages ranging from $30 a month to a maximum (the most expensive package) of $1,500 a month. If you prepay for the whole year, you get two months free. So that's twice the $30 you can put in your pocket!
What's included in the basic package
To take a look at the options offered by the basic package, we've listed them item by item:
single WordPress site hosting;

10GB of SSD storage;

one free site migration;

connect the CDN of your choice;

free SSL certificates;

support for HTTP/2 and PHP 7.4;

SSH access support;

Premium DNS management;

you choose your data center location;

staging areas are available;

automatic daily backups;

use of Kinsta's extensive knowledge base.
Five of the above options stood out for us:
Kinsta SSL support via Let's Encrypt.

From the Kinsta hosting admin panel, you can easily install an SSL certificate on your WordPress site, completely free of charge. This encryption also means that you don't have to go through the outdated process to get your certificate keys.

Optimized and thoughtful backups.

Daily backups are pretty standard at many hosting companies these days, but Kinsta manages to stand out in this area as well, with a particular implementation method. Backups are done instantly and without server overhead. What's more, backups can be restored with the click of a mouse. Backups for the live and test environments are separate, so the development environment is just as secure as your live site.

Choose the CDN of your choice.

You can use the CDN of your choice. With hosting companies, you often see some restrictions on what other solutions you can use with their servers. So it's nice to see that Kinsta is ready to work with your current CDN.

CDN.

A content delivery network (CDN) is a network of proxy servers geographically distributed across the Internet in different data centers. It allows users to access content without delay.

Easy WordPress installation

Don't have a WordPress website? Then you can install a new website in just a few clicks after activating Kinsta WordPress hosting. Buy a theme from Themeforest or download a free theme.
In the Kinsta administrative panel, you decide what the hosting will do for you. Need to add more websites or more disk space? Read email or host other files? Kinsta is much more than just WordPress hosting.
Free hosting migration for customers of each package
Where Kinsta makes the difference in terms of service is hosting migration. We all know the problem when we've set up a site in a standalone environment or want to switch hosting. Your hosting is too slow, and it's time for a better alternative. But the migration takes a long time, and you're afraid something will go wrong.
Not a surprising thought, because as easy as it is for a professional to migrate a WordPress site: danger can be found at every turn.
However, Kinsta is one of the few hosts that have made migrating your hosting very easy. You don't have to migrate your hosting yourself, but you can let Kinsta do it for you. The Kinsta migration team checks to see if the WordPress website has been translated correctly, if load times are good, and if all functionality is working correctly.
Kinsta Dashboard Appearance
We've already briefly summarized what features the Kinsta dashboard offers. But here is an illustration from the user's point of view.

As you can see, it is very different from most of the solutions we are used to. The Kinsta dashboard focuses more on day-to-day tasks related to the hosting platform rather than server management.
Through the dashboard, you can easily access the following things:
Your site(s), where you can change initial settings, create new SFTP accounts, view previous backups, add HTTPS, and more.

Site Migrations. With a clear overview of all site migrations made in the account.

DNS settings.

Analytics, a welcome addition.
Performance
Besides reliability, the essential features of a good WordPress hosting site are performance and load time.
Site load time itself has received a lot of attention in the SEO press in recent years. Some believe it is essential for search engine optimization. However, everyone thinks that a fast site is critical to the user experience. So, of course, we hope Kinsta will show us a better solution.
The main differences between Kinsta
Kinsta gives you the power of a robust hosting platform – the Google Cloud Platform – in an easy-to-use way, so you don't even have to have an idea of what's going on "under the hood."

Kinsta optimizes performance and is ready for traffic spikes on your site, depending on the package you buy.

Excellent all-in-one security and backup.

Highly secure, free transfers, daily backups.

24/7 chat support.
Alternatives to Kinsta: Siteground and WP Engine
Kinsta is not the only WordPress host. Although Kinsta's load times are lightning fast, there are several alternatives to expect the same speed.
The most well-known alternatives to Kinsta are currently Siteground and WP Engine.
About Positive Impressions
If you're curious about the experiences of current Kinsta users, you can check out dozens of review websites. Besides Google Reviews and Trustpilot, there are dozens of other sites where you can find Kinsta's WordPress hosting experience.
Since you probably don't have time to read all of these reviews, we chose 100 different sites and read them. 98 of the 100 Kinsta reviews we read gave the company an 8 out of 10 for WordPress hosting. In addition, the following components were also rated positively:
Service

Value for money

Hosting speed

Features
Because of this, we can confidently call Kinsta one of the best in WordPress reviews so far.
Is Kinsta right for my hosting needs?
Prices start at $30 per month, which translates to about €27.50. Kinsta is suitable for everyone and highly recommended if your website falls into the categories below:
If you manage a website that is growing and experiencing steady or rapid monthly growth.

Suppose you manage an established website with consistent, high traffic and don't like surprises regarding outages. Kinsta's reliability comes in handy here.

If your site has relatively frequent spikes in traffic – whether it's due to promotion or something else – and if being able to handle those traffic spikes is essential to your business.

Suppose you run an online business, such as an e-commerce store, where good site performance is essential. After all, this can be translated directly into dollars.
If the above requirements are something you can't live without, we suggest you try managed WordPress hosting services from Kinsta. If the price is out of your budget, check out our other WordPress hosting reviews.